In this age, music and video have become staples. It has entertained users all around the world. That's why music streaming giants (e.g., Spotify, Pandora, Apple Music) and video streaming platforms (e.g., Vimeo, YouTube, DailyMotion) have become so popular. One thing some people would like to do is to convert M4A to MP4. This may sound ridiculous since M4A is an audio file while MP4 is of the video file type. But because of advances in technology, this has become possible.
Thus, this guide will teach you how to convert M4A to MP4 easily with the right tools and step-by-step processes. Converting an audio file to a video file is now possible with conversion software that can be found both offline and online. Let's start converting your M4A files to that of MP4!
Article GuidePart 1. What Is M4A And MP4?Part 2. Can You Convert M4A To MP4?Part 3. How to Convert M4A to MP4 Online?Part 4. Conclusion
Part 1. What Is M4A And MP4?
Before we start to convert your M4A to MP4 files, let's start with a discussion of the two. We will be starting with M4A and then move towards a discussion of MP4.
What Are M4A Files?
M4A is actually the file extension that is given to an audio file that utilizes AAC (advanced audio coding) utilizing lossy compression. The general purpose of M4A files is to replace MP3 given the fact that it means MPEG-4 Audio. Similar to MP3 files, M4A files are used for those which contain audio alone. Typically, M4A files aren't protected since if they are, they will have the M4P extension.
Compared to that of MP3 files, M4A files take up smaller storage space and have better quality. This is true even if the files are encoded using identical bit rates. Smaller file size coupled with better quality in that of M4A files is possible due to certain enhancements such as compression that is based on that of perception.
There are a lot of media players that can open M4A files including QuickTime, iTunes, Windows Media Player, VLC Media Player, and more. However, some players can only open M4A files if they are renamed to that of the MP4 file extension. Thus, you may want to convert M4A to MP4 to be playable in your media player (more on this later).
What Are MP4 Files?
Files with the extension MP4 is actually a MPEG-4 video file type that is one of the most commonly used nowadays. Its popular purpose involves streaming and downloading videos from the net. This video format is very versatile and is also compressed. MP4 files can contain audio, video, still images, and even subtitles, among others. It is a standard created by MPEG (Moving Pictures Experts Group). The main purpose of creating the container format is to put in a lot of data in a compressed file.
Because MP4 is highly compressed, the file sizes are smaller compared to other popular media formats. Quality loss is not noticeable and most of the time the original quality isn't compromised. Thus, MP4 is a web-friendly and portable video format.
MP4 files can be opened with all media players because it is a standardized format. Windows PCs and Mac computers can play the files without the need to install third-party applications. By default, MP4 files are played with Windows Media Player on Windows PCs and with QuickTime on macOS computers.
Part 2. Can You Convert M4A To MP4?
If you want to convert M4A to MP4, you can use conversion software that is specially designed to do so. For that, we recommend that you use iMyMac Video Converter. This tool enables you to convert audio and video files from one format to another. It even allows you to convert audio files to video files similar to convert M4A to MP4. The tool allows you to choose which output format you wish including MP4, MP3, AAV, AAC, SWF, VOB, and more. Enhancing video quality is possible so you can adjust contrast and modify brightness to your liking. Upscaling videos from a lower to a higher resolution is also possible with the tool.
Video editing capabilities include placing a watermark, rotating your video, adding subtitles, adding audio tracks, customizing hue, modifying the contrast, splitting the video, combining multiple videos, and cropping blank edges, among others. As you can see the capabilities of the tool are endless. Conversion speeds are ultra-fast because it supports the technology of hardware acceleration among graphics cards. These include AMD, NVENC, NVIDIA CUDA, and Intel HD GPUs. Quality loss and re-compression don't happen because of the support of this technology.
As such, here are the steps to convert M4A to MP4 using iMyMac Video Converte4:
Step 01 – Download And Install The Converter On Your Computer
The first step involves going to the official website of iMyMac Video Converter and downloading the appropriate operating system installation file on your computer. There are Windows and Mac versions available. After that, open the installation package to install the software on your computing device. The last part of this step involves opening the software on your computer.
Get A Free Trial Now!
Step 02 – Add Your M4A Files
The next step to convert M4A to MP4 is to add your M4A files on the interface of the software. For this, you have to use the "Add Files" button located at the top part of the interface. Find the files on your local hard drive and select them to add them to iMyMac Video Converter.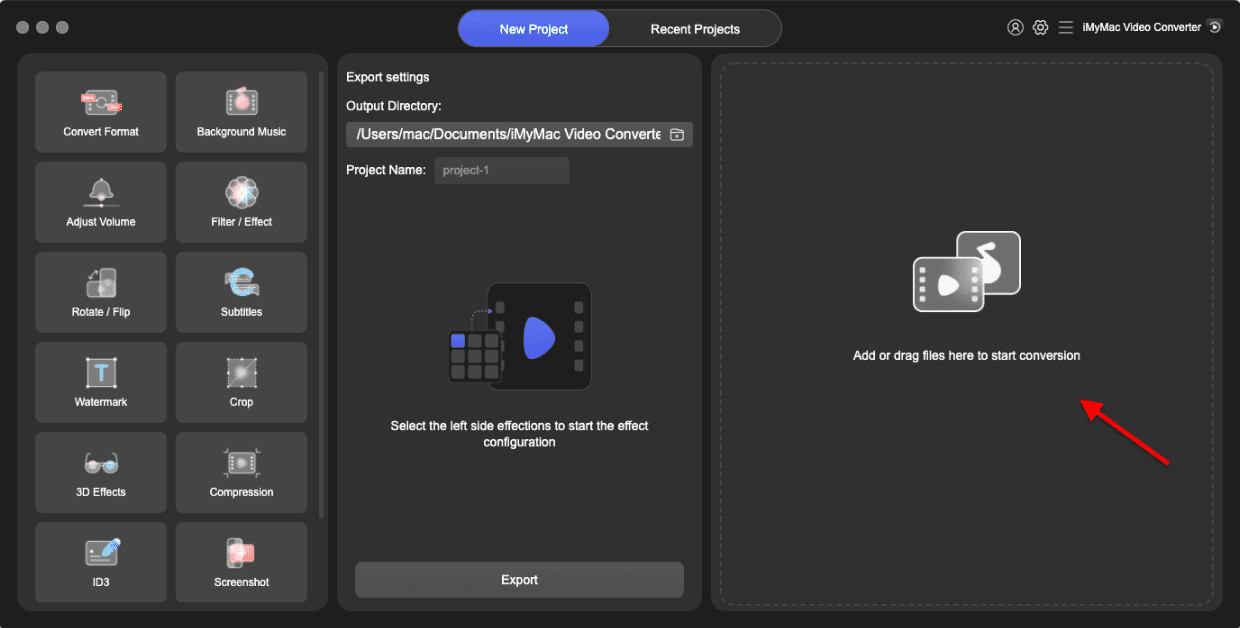 Step 03 – Customize Desired Settings
The third step involves customizing desired settings such as output format and output location. In this stage, the output format will be MP4. You can also add watermarks and other effects if you want to.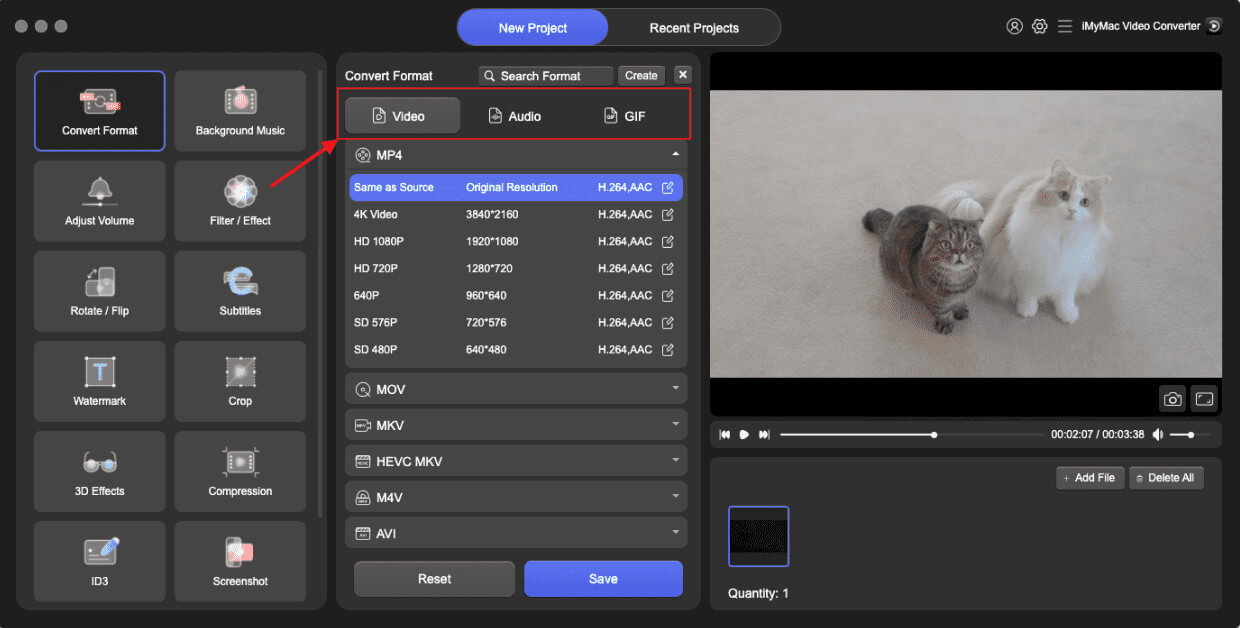 Step 04 – Start The Conversion Process
The last step involves clicking the "Convert" or "Convert All" button in order to start the conversion process. The conversion speeds are very fast so you don't have to wait for long periods. In addition, you can find the files in the destination folder you have chosen in Step 03.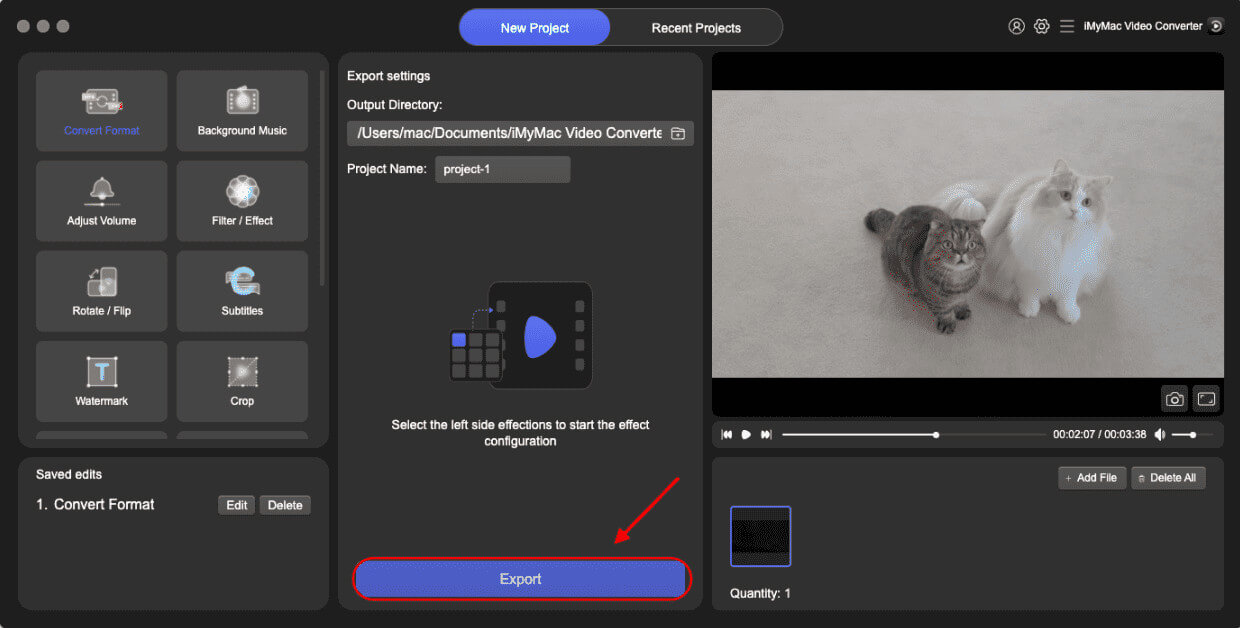 Part 3. How to Convert M4A to MP4 Online?
In this section, we will give you a rundown of the runner-up tools that will be used to convert your M4A files to MP4. We still recommend that best tool as iMyMac Video Converter. But we want you to have this list to have other options.
1. Zamzar
This is one of the most versatile converters allowing you to convert video files, audio files, and even images. The interface is user-friendly and neat making it a good contender in the second spot of the best M4A to MP4 converter. It is used by Princeton University and The New York Times as stated on its official website.
Zamzar is very convenient as you don't have to download any software to convert your files. According to its site, you can convert files in 10 minutes or less. Plus, it supports 1200+ file formats which are definitely a lot if you think about it. File conversion services are given by Zamzar since 2006. Thus, they have been here for more than a decade making them an expert in file conversion. If you have a file you can't convert, you can even contact their support team for help.
2. AnyConv File Converter
AnyConv File Converter allows you to convert M4A to MP4 with ease. It supports audio files, videos, images, ebooks, archives, fonts, CAD, and MESH, among others. Documents such as PDF, CSV, HTML, and DOCX are also convert-able with the tool. The interface is very neat. However, it does have ads in it but is not that intrusive. This web-based tool is very simple to use, plus it supports the processing of your files that have a maximum size of 500MB. Different formats are supported which amounts to about 300 file types.
According to the website, the files are kept secure and private. After you have converted the files, the uploaded data will be deleted by AnyConv File Converter's servers. Plus, it gives you a unique link where you can download the converted file.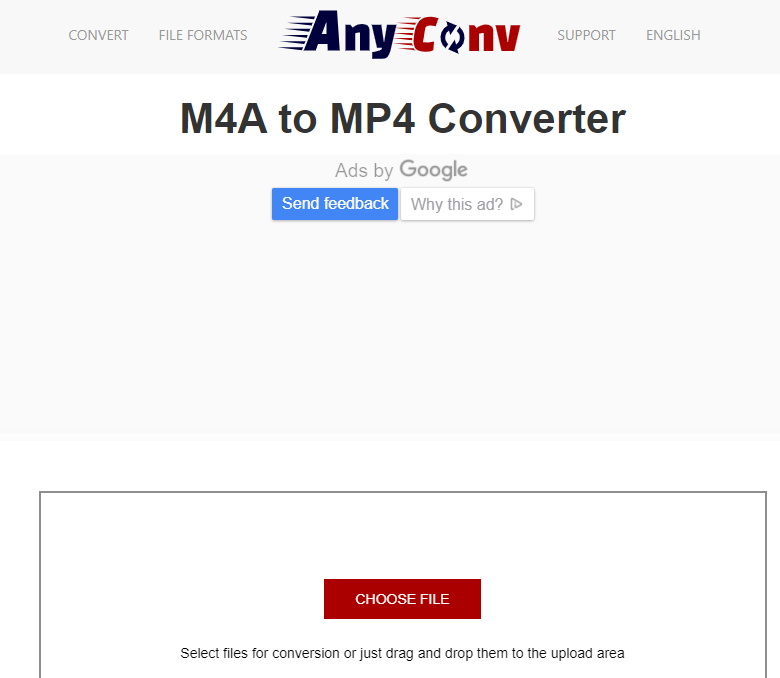 3. Convertio
This M4A to MP4 converter has a user-friendly interface that's very intuitive. Advanced tools are included in the website such as slideshow maker, MP3 cutter, video splitter, and compressors. Multiple file formats are supported as well. The site says it aims to convert files in 2 minutes or less. The site supports over 300 formats where you have 25600 different conversions possible. It's very easy to use as you just have to drag and drop your files and then choose the output format. After that, you can convert by clicking the "Convert" button.
Conversions using Convertio is done in the cloud. Thus, it won't consume processing power from your own computer or mobile device. Since it is browser-based, it works on all platforms and you don't need to install any type of software. Conversion types support both customized and advanced options. For instance, if you want to convert video files, you can select codec, aspect ratio, quality, flip, and rotate, among others. Security is guaranteed with the platform as all uploaded files are deleted after 24 hours. No one will gain access to the data you upload to the website.
4. Sendeyo
Sendeyo is another M4A to MP4 converter that you can find online. This browser-based converter allows you to convert different types of files to another format. It comes in five different languages as well, including English. To use it, you simply choose a file through the button and locate it within your drive. Then, you simply click the "Start" button to start the conversion process. The only thing we find as a drawback is the interface is not that neat and is filled with advertisements.
5. Aimersoft Video Converter Ultimate
Aimersoft Video Converter Ultimate is another M4A to MP4 converter that can be used for free or purchased for more features. Aside from MP4 to that of MP4, it can convert videos to a lot of supported output formats. It operates on a lossless conversion technology without the need for the processes of decoding and recoding. Fast conversion is achieved because it opts for the technology of hardware acceleration of graphics cards.
Aimersoft Video Converter Ultimate allows you to convert over 500 different formats such as music and videos. You can directly convert your media files for different devices. Or, you can optimize them for uploading to YouTube, Vimeo, Facebook, and more.
6. CoolUtils
This is another M4A to MP4 converter that is based online. You can use it by simply dropping files or clicking the option to add your own files. When converting M4A to that of MP4, you can choose to set bitrate, channels, and sample rate. After that, you simply download the converted file by clicking the download button.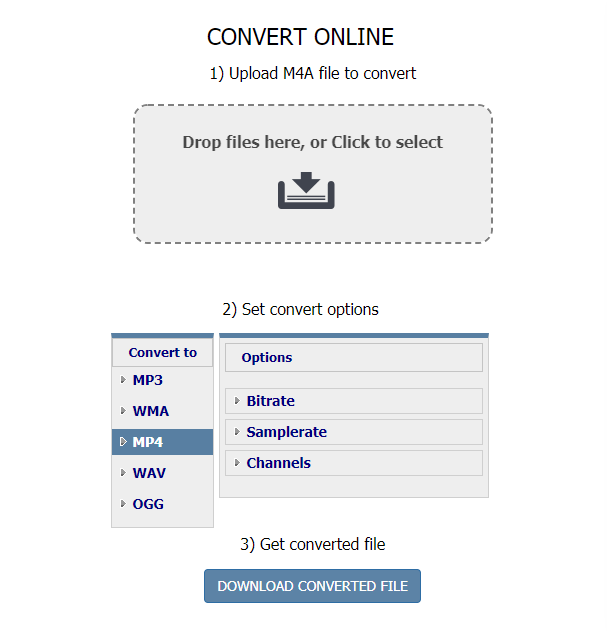 Aside from M4A and MP4, it can convert other types of files. These include HTML, PDF, DOC, Excel, CAD, CSV, XML, OST, and more. It also offers TIFF and PDF Apps. Plus, it gives you free software including a PDF viewer and an XML viewer, among others.
Part 4. Conclusion
This guide has given you tips on converting M4A to MP4. We started with a definition of the two different file formats. The former is an audio file while the latter is a video container format. In the second section, we've given you the best M4A to MP4 converter you can get. This is in the form of iMyMac Video Converter which is a very powerful tool for converting and editing files.
In the third section, we've given you a rundown of other tools you can use to make the said conversion. These include Zamzar, AnyConv File Converter, Convertio, Sendeyo, Aimersoft Video Converter Ultimate, and CoolUtils. After you've checked out all of these tools, you'll notice that the best is iMyMac Video Converter. This is because it has editing tools and powerful output formats for you to choose from. Plus, it has very fast conversion speeds making you finish the job in a short period of time. Grab iMyMac Video Converter now!