JPEG and PNG are two of the most popular file formats for images in the modern-day. They are both designed to have great compatibility with different broadband speeds and modern browsers as well as meet the requirements of average tech users. JPEG and PNG serve similar purposes but there is a difference in the image quality they produce. Thus, the choice of whether a user wants to use JPEG or PNG will depend on their preferences.
Thus, in this article, we will give you 5 JPEG to PNG converter tools you can use on your Mac computers. But first, let us have a quick discussion about the JPEG and PNG image formats in the next section.
Article GuidePart 1. What Is the Difference between JPEG and PNG?Part 2. How Do I Convert a JPEG to a PNG for Free?Part 3. Bonus Tip: Removing Similar Images on Your MacPart 4. Wrapping it Up
Part 1. What Is the Difference between JPEG and PNG?
What is JPEG?
This image format uses lossy compression and thus is useful when strong images at smaller sizes. JPEG discards some of your image's information so that it can reduce its file size.
What is PNG?
Meanwhile, PNG has been the most popular image format choice for web purposes. It uses lossless compression and is ideal for storing iconic images, texts, and line drawings. Unlike JPEG, PNG will keep all of your image's information and retains its quality but expect that the resulting file size will be larger.
Part 2. How Do I Convert a JPEG to a PNG for Free?
Now, let us proceed with the best JPEG to PNG converters you can use for your Mac. We have compiled 5 of them for you.
#1 FileZigZag
This online converter can convert most of the common formats for graphics. You just need to upload your original image, select your desired output format, and then download your converted file. Aside from images, FileZigZag can also convert web pages, archives, eBooks, videos, and audio files.
Note though that you have to wait for the tool to upload your file just as you would expect with the majority of online file converters. After your file has been uploaded, you have to wait again which can take a long time because FileZigZag uses a queue for the files it is going to convert. But, since the majority of images have small sizes, you do not have to worry about waiting that long.

Pros
It is very simple to use
It works on any web browser and operating system
It can convert images up to 150 MB given that you are logged in
It supports bulk uploads as well as simultaneous conversions
Cons
Some conversions sometimes take too slow
Free users can only convert up to 10 files a day
Unless you create an account, you will be limited to a maximum file size of 50MB
#2 CoolUtils Online Image Converter
This tool can convert your images in real-time, unlike other online converters for images. Meaning, you do not need to wait for an email link. Among the most notable features of this app is that you can resize and rotate your images before you convert them. Most of all, since it is an online converter, it works with almost any OS such as Mac, Linux, and Windows.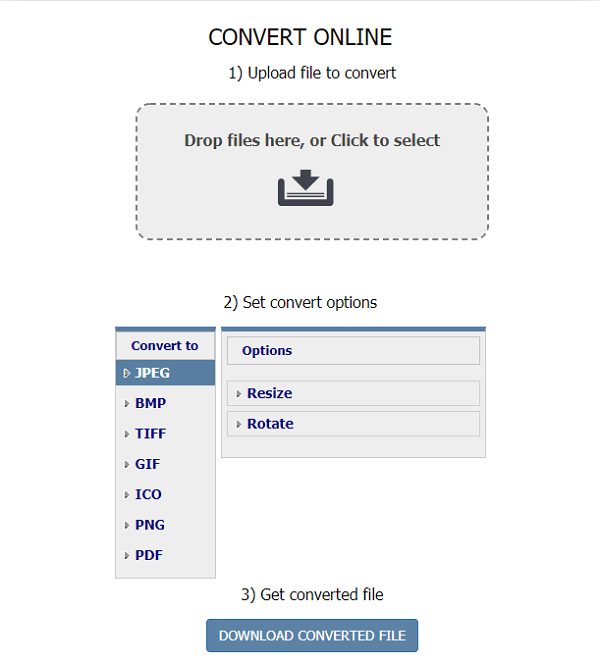 Pros
Since the app runs online, you do not need to download any third-party apps
You can convert any image from your Dropbox, Google Drive, or computer
You can rotate or resize your image if you want before you convert it
It allows you to download your images right after converting them
Cons
It can only convert a single image per conversion process
You need to upload your image to their website
You can only use your converted images after downloading them to your device
You cannot save your converted images to your Google Drive or Dropbox
It does not show you a preview of your image before converting it
#3 UniConverter
This is a simple video converter that both Mac and Windows users can use for converting JPEG files into PNG. It is a versatile translator for vector graphics that can provide you with all of the needed tools for converting from one image file format to other formats which are very handy.
Moreover, you also need to note that you have to have Python installed on your Mac device and allow administrator privileges before you can use UniConverter. Thus, Uniconverter is a software that can probably provide you with a complete solution for your video conversion and video editing needs. The tool can download, edit, convert, transfer, and burn videos of your choice.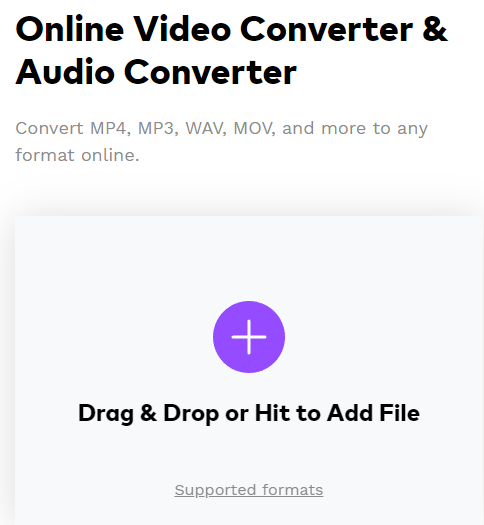 Pros
Its user interface is user-friendly and offers self-explanatory menu options. Meaning, any newbie user will be able to grasp the usage of the app without the assistant of experts.
It has a fast and transparent conversion process
It offers an easy way of merging your videos which you can do in one tap
It supports batch conversion of images at once (15 images or more)
Both Windows and Mac users can download the app
Aside from being versatile, it offers a wide variety of features to serve its users all of their video-related needs
Cons
You need to install PIL 1.1.6, ReportLab 2.3, and Python 2.6 for all versions of macOS
Its output video only has limited choices
Uploading large files is a hard task which can be discouraging
It has only a few profiles for optimizations compared to other converters
#4 Convertio
This is another online file converter that supports more than 2,000 different file conversions which include Presentations, Images, eBooks, Documents, Audio, and Archive converters. Convertio allows its users to upload their files to other apps like Dropbox and Google Drive. You are allowed to leave the website while your conversion is being done and just wait until the converted files are uploaded successfully to your chosen cloud storage.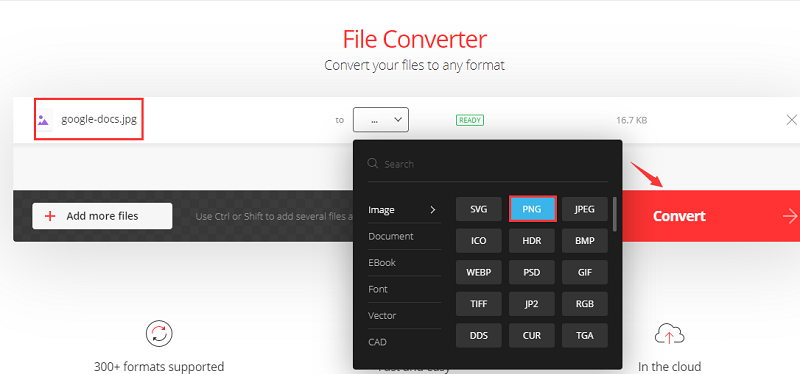 Pros
It is extremely simple to use because it supports the drag and drop method and does not require you to sign in
It keeps our converted files cached so you can retrieve them later within the same day
You are given free conversions of up to ten files per day
Cons
Do not expect all PNG image files with a transparent background to work properly.
#5 ZAMZAR
The last on our list is ZAMZAR which is among the best online converters out there. It provides free services for users to enjoy unlimited file conversions and supports 1,200+ file conversion types. It is very easy to use and is worth a try if you have files that you need to convert as soon as possible online.
Pros
It allows you to download your desired online videos from any website
It can convert file sizes up to 100 MB for free
It can store your converted files into its inbox for registered users
Cons
It can waste a lot of your time because it takes too long before it can convert your files
It does not allow the conversion of multiple files simultaneously
It has limits on the free version in terms of file sizes
Part 3. Bonus Tip: Removing Similar Images on Your Mac
Have you ever experienced your Mac slowing down? This can be caused by a full computer drive. Duplicate or similar images are among the reasons that cause your drive to become full. But, no worries because iMyMac PowerMyMac offers an effective solution for you to locate and delete these similar images as well as speed up your computer by saving on space. iMyMac PowerMyMac helps speed up your Mac by deleting and uninstalling unnecessary apps as well as junk files on your Mac.
Plus, this tool can effectively remove unneeded iTunes Backup, multiple languages, and email attachments aside from similar images. It can also find large files on your computer that you no longer need for you to get rid of them and give your drive more space.
How Can You Use iMyMac PowerMyMac to Find Similar Images on Your Mac?
Before you can delete duplicate or similar pictures on your drive, of course, you need to install the app on your computer first. You just have to go to iMyMac PowerMyMac's official website and then look for the download links there. The tool offers a free version for those who want to try the app first before purchasing the full version.
Get A Free Trial Now!
Once you have decided which installer to download, download it and then install iMyMac PowerMyMac on your Mac. Once done, you can start locating similar images on your drive by following this guide.
Part 4. Wrapping it Up
Since Mac computers do not come with built-in tools that you can use to convert your JPEG images, you will need to find third-party tools to achieve this task. Feel free to try the free online tools we have listed here until you find the one that will satisfy your needs the most. Most of all, we suggest speeding up your Mac by deleting unnecessary files using iMyMac PowerMyMac.