Google Chrome is one of the most trusted and popular browsers that are available in macOS and Windows, but if you would like to uninstall chrome Mac, we can help you. Though Mac already has a default browser which is Safari, most of the users still opt to download or install Chrome on their Mac.
Some users believe that Chrome works faster than safari and is more convenient to use especially when they are using other google based applications such as Google docs, Gmail, Hangouts, and Google Drive. Though there is no proven study that it works faster than Safari, it has always been a matter of how they use it and how often they perform a deep cleaning of browsers.
Is there a way to uninstall Chrome? If you don't need Chrome anymore and have no idea how to uninstall an application from your Mac completely, keep reading to learn how to uninstall Chrome on Mac.
Get A Free Trial Now!
Contents: Part 1. Reasons to Uninstall Google Chrome on MacPart 2. How Do I Completely Remove Chrome from My Mac? Part 3. Uninstall Chrome on Mac Manually with Its FilesPart 4. Conclusion
Part 1. Reasons to Uninstall Google Chrome on Mac
Most of the reasons are merely user-based reasons, and we will list down all the possible reasons why you would like to uninstall Chrome on Mac.
There is a pretty good chance the reason behind why you are reading this article is because your reason might be listed here as well.
You need to resolve some browser issue, wherein the option could be uninstalling and reinstall chrome on your Mac
Switching to a different browser like Safari
Encountered a threat of malware while browsing using chrome
Have multiple different kinds of browsers installed
Free up space on your Mac
Uninstalling chrome on your Mac may not simple as it is like dragging the icon of the app on your trash bin. This is due to there are some logs and files from chrome that is saved somewhere in your library that you need to remove as well.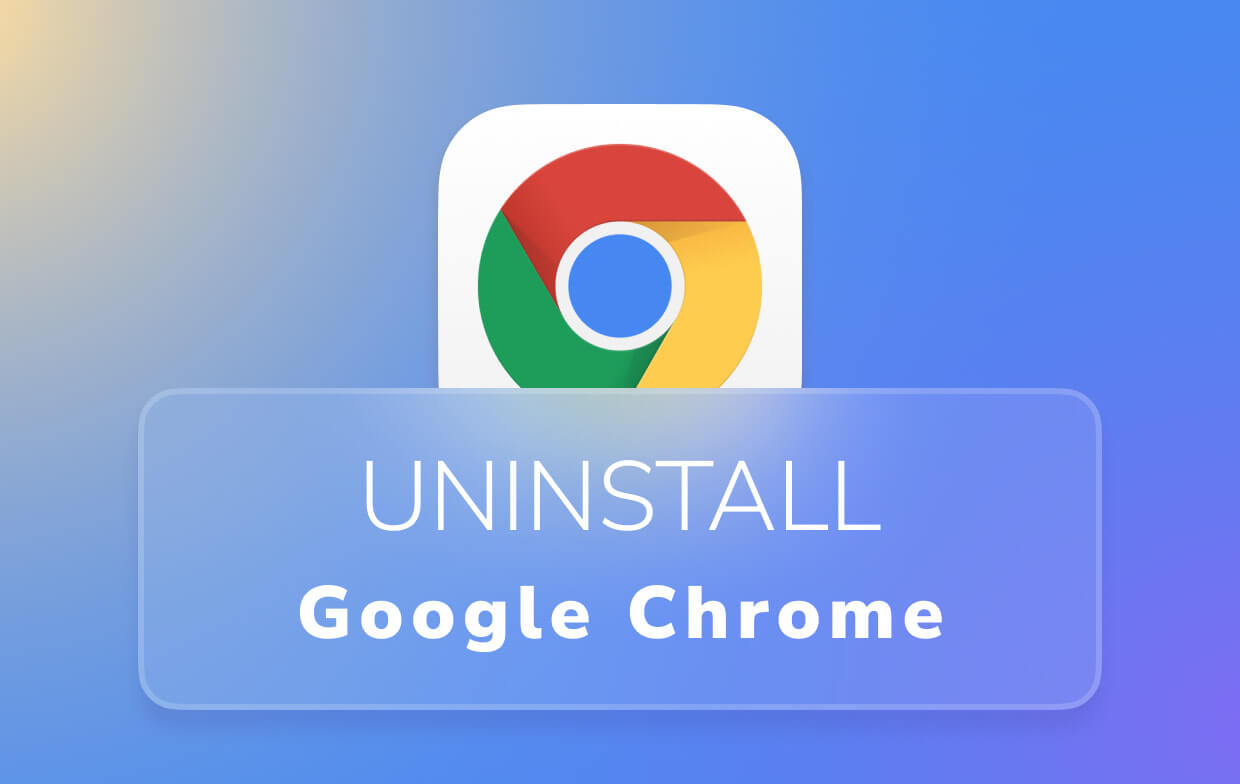 Part 2. How Do I Completely Remove Chrome from My Mac?
Removing an app from your Mac like chrome can be pretty easy if you are not looking about other possibilities such as app files that are left on your storage. To uninstall chrome on Mac does not always mean that all of its residues are gone, that is why you can use iMyMac PowerMyMac to uninstall the app and its files.
Aside from the great uninstaller feature of PowerMyMac, here are the other modules or categories as well that you can use and utilize.
A simple and easy interface that even beginners could easily understand
Check the status of your Mac like storage and battery life since it has a system checker that gives you a summary report of your Mac
Free up space on your RAM to make your Mac work faster by removing junk files
It can also scan your Mac for large and old files that you can back up or delete
Can check for the duplicate files and similar images on your folders
Uninstall apps like chrome together with its related files
Protect your Mac from possible malware through its privacy feature that can remove, delete cache, cookies, extensions, and add-ins
You see, you could not just benefit from the App Uninstaller module of iMyMac PowerMyMac, thus you can also take advantage of the other modules. It can surely help you optimize your Mac's performance and to help you declutter and organize your files.
Steps to Fully Uninstall Chrome on Mac using PowerMyMac
Using PowerMyMac as your uninstaller can be simple, easy, and effective. It also works fast to save your time and energy.
Note: Make sure to close tabs for Chrome before doing this.
Open the app on your Mac> On the categories side which is the left part of the screen > Select App Uninstaller
Click on the SCAN icon > Select Google Chrome
Once done selecting the app > Click CLEAN the bottom right of the screen
Wait for the uninstall to finish then this will give you a report that it has been removed and its files, also how much of storage was cleaned up.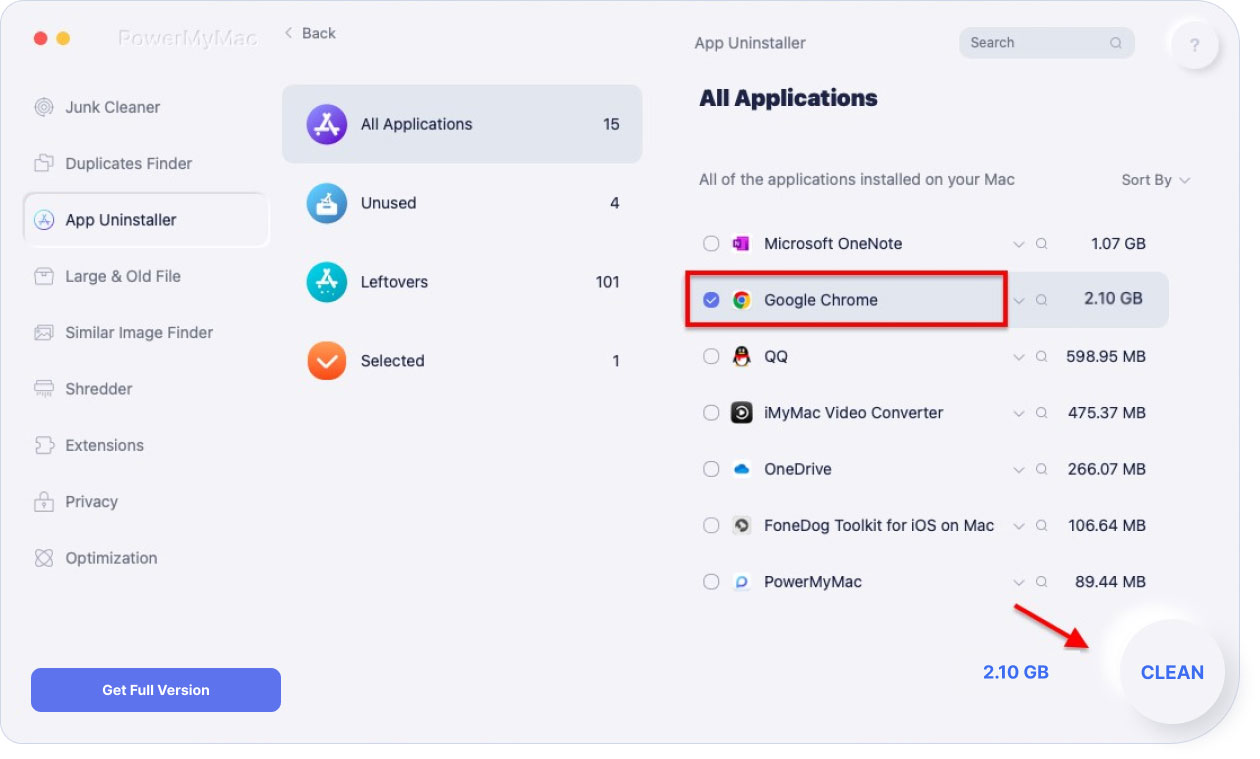 By now, you should be able to uninstall chrome on Mac together with its related files, quick and easy right? Just keep PowerMyMac as you are busy in optimizing your Mac.
Part 3. Uninstall Chrome on Mac Manually with Its Files
Now, we will go through the manual way without iMyMac PowerMyMac. This could take more of your time and quite a few more steps to follow. The reason why you can't delete Chrome on Mac is there are still some leftovers for you to completely uninstall Chrome. Removing the related files is a separate step. Prior to uninstalling, you should remove the cache files on Chrome, and here is how you do it.
Remove the Cache Files on Chrome
Method 1:
Open Chrome > Select the Three Dots beside the Address bar > Select History on the Dropdown list
Select Clear Browsing Data on the left side of the screen > Select Settings > Choose a Time Range
Since you are uninstalling chrome you may select All time on the dropdown list
Tick all the Boxes below Browsing History, Cookies and other site data and Cached Images and Files
Click on Clear Data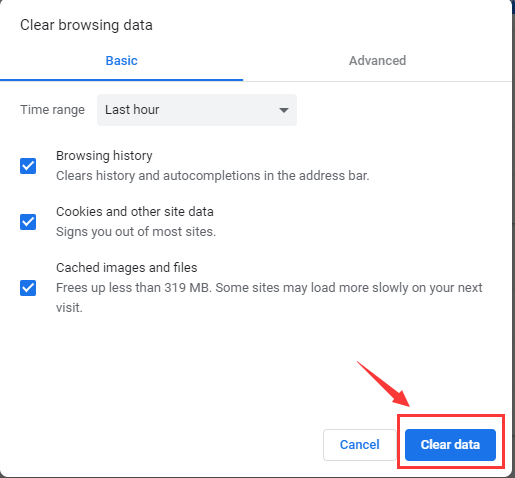 If you would like to have more options like to remove passwords and autofill information you can follow this path.
Method 2:
Open Chrome > Select the Three Dots beside the Address Bar > Select History > Click on Settings
A window will appear, and it will have defaulted to Basic like Method 1
You now have to select Advanced tab > Change the time range to All Time
Tick all of the boxes up to the bottom of the page > Click Clear Data
Cache and Cookies if you opted to do the advanced tab also passwords, autofill forms should have been deleted by now. We will now proceed to uninstall chrome on Mac now but make sure that there is no active window of Chrome before doing this since the system will not allow you to uninstall if there is any.
Remove Google Chrome icon from Desktop
Method 1:
Open your Applications Folder on Mac> Look for Chrome App > Right Click on the icon and then > Select Move to Trash
Proceed to your Trash > Click on the icon > select Empty Trash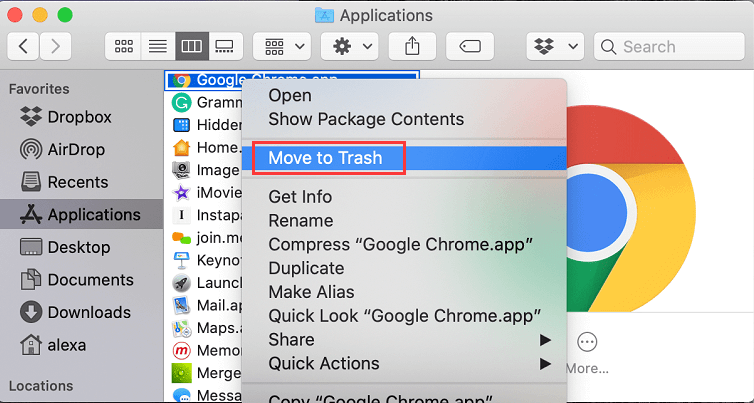 Method 2:
Use Spotlight Search Key in Chrome > Select the Icon > Drag the Icon to Trash Bin
Click on Trash Bin > select Empty Trash
Remove Data and Related Files of Chrome on Mac
This is the second part that you have to go through to manually uninstall chrome on Mac, unlike using iMyMac PowerMyMac and its feature uninstaller that removes its files for you as well. You might be asking yourself why do you still need to do this when you already get rid of the app? This is mainly because it is taking up some space in your storage.
Since the chrome has already been uninstalled why not remove its related files as well to make use for your other more important files that storage that it is consuming.
Method 1:
Launch Finder > Select Go on Menu Bar
Press Alt/Option to see Library then Select it
Browse on the folders to locate the files that are related to Chrome > Right Click on the Folder > Select Move to Trash
Once you found everything > Go to Trash Bin > Click on the icon > select Empty Trash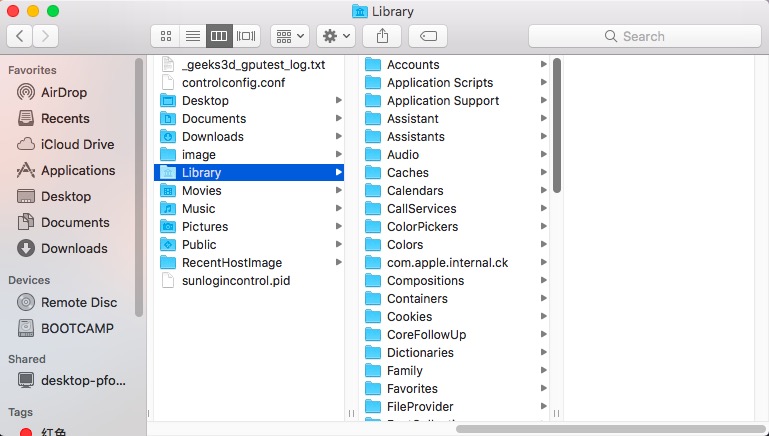 Bonus Tips: Folders Associated Chrome Files can be Found
I wanted to share with you the folders that I have found that contains the files of Chrome, to also help you save some time on browsing your whole library.
Note: There are some folders on your Library that you might not want to delete since it could cause some serious repercussions that could affect your Mac's performance.
Application Support
Containers
Caches
Logs
Preferences
Frameworks
WebKit
Saved Application State
Method 2:
Open Finder using the Keys Command + Shift + G then Key in ~/Library> Select Go
Select the Application Support Folder > Select Google > Select Chrome > Move to Trash
Empty Trash
Part 4. Conclusion
To uninstall chrome on Mac can be a tedious process especially in terms of deleting its related files though that is the most important part. Since we have covered on what are some reasons why you have to remove chrome from Mac, ways to uninstall it you should be good-to-go by now.
Get A Free Trial Now!
For you to maintain the good performance of your Mac you should be aware and keen on what are the files that are taking the space of your RAM since full disk can slow down your Mac. You need a powerful Mac cleaner to help you optimize your Mac.
Great thing there is already an application like PowerMyMac that can help you easily uninstall Google Chrome on Mac and remove its related files at the same time. Have its free trial to free up more space now!