If you regularly use programs such as Adobe Photoshop or Abode Premiere Pro on your Mac, you might have encountered errors pertaining to a "scratch disk". Generally, a common issue is the refusal of Photoshop to be accessed accompanied by the "could not initialize Photoshop because the scratch disks are full" message.
Once you encounter this issue at some point, there are measures to resolve the scratch disk full Mac issue.
Article GuideA Close Look on A Scratch DiskWhat Happens If You Have Full Scratch Disks?Methods on How to Deal with Scratch Disk Full Mac IssueQuick Tip on Using PowerMyMac System Junk ToolConclusion
People Also Read:Startup Disk Full on Mac, Full Solution in Here!How to Check and Free Disk Space on Mac
A Close Look on A Scratch Disk
A scratch disk is your hard drive space utilized by Photoshop. It functions as a virtual memory if there is inadequate RAM to execute a task.
When programs such as Photoshop is used, it requires a working space specifically known as virtual memory or cache memory. This is where the temporary project files are accessed and stored. Generally, if you are using Photoshop, you can designate several scratch disks for readily available space.
If you are working on large-sized images and several layers, Photoshop eats up the disk space of your Mac by quickly creating a large load of project temp files.
Once you decide to use Photoshop, it is vital to ensure that there is an option to designate the scratch disks to the designated driver that you have chosen. It is not recommended to utilize the system drive, except there are no other options.
What Happens If You Have Full Scratch Disks?
If you receive the "scratch disk full" error, Photoshop or other software has utilized all the space on the hard drive that serves as the scratch disk. Remember that this space that has been used up is only momentary. Furthermore, it is independent of any project file.
Essentially, Photoshop will not always eliminate these transitory files if they are no longer needed. This is the reason it can end up as a permanent issue if a solution cannot be utilized.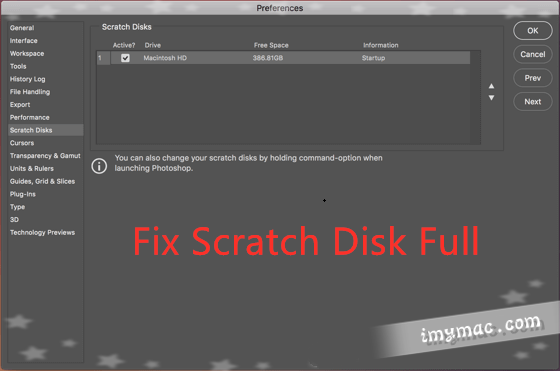 Methods on How to Deal with Scratch Disk Full Mac Issue
If you want to clear up the scratch disks, there are several methods on how to manage the scratch disk full Mac issue.
Clearing up the Photoshop cache
Photoshop has a built-in solution that detects specific Photoshop caches. If these caches are not automatically removed by the program, they have the tendency to build up and eat up a significant amount of space on your scratch disk.
Let us take a close look at how to use this method to deal with the scratch disk full Mac issue. When using this tool, access Photoshop in your Mac along with an open image.
Tap on Edit on the menu bar
Hover the mouse over "purge" to display 4 different choices – Undo, Clipboard, Histories, All. In case an item is grayed out, it indicates that it has been deleted
Choose the specific item that you want to remove or tap on "all" to remove all the caches
You will receive a notification that the purge is permanent. Make sure that you no longer need an earlier version of one of your projects and tap on OK.
An ideal way to prevent your Photoshop cache from building up is to perform regular disk cleanups. Since the cache is embedded deeply in the system folder, manual deletion can be a hard task. Due to this, it is recommended to use a system junk tool.
Remove your temp files
The temp files of Photoshop is often the culprit for taking up space on your scratch disk. In case Photoshop is not going to remove any of these temp files, you must handle the task yourself.
You should look for "pst" files and a series of numbers with the file extension ".tmp". You can find "Photoshop Temp" by placing a gap amidst the two words.
Generally, you have the option to explore the scratch drive but you find everything, rather than performing a search covering the whole computer. In most cases, it will take a short while for the process to finish.
Once the search complete, you will be provided with a list. If you save your work and the program closes, you can get rid of these files safely and restore space on the scratch disk.
Cleaning up your disk space
For those who do not have access to another drive or do not want to purchase one, it is time to clean up your hard drive. It is recommended to check the drive contents if there are elements that you no longer need. You can delete these items to free up some disk space.
Another option is to transfer files to external drives, cloud storage solutions such as iCloud or Dropbox or even DVDs.
In case you have a macOS Sierra or higher, there are new tools that you can use to manage your storage space.
Simply navigate to the Apple Menu > About This Mac > Storage tab where you will see a new Sierra bar graph.
Once you tap on "manage", you will proceed to the new tools.
Although there are beneficial elements, most of these tools simply move junk from one place to another. Since most of these processes are automatic, most Sierra users might not be even aware of what their OS is doing. It is recommended to turn off these tools or make sure first that you fully understand how they function before switching them on.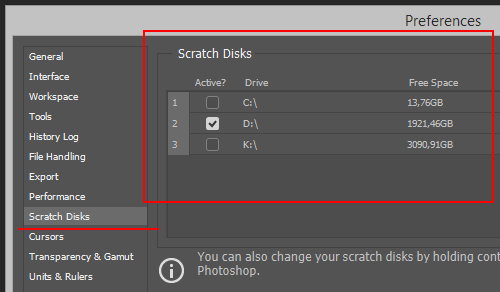 Change your scratch disk
Although it might be a hassle for some, monitoring the available space on your scratch disk is a must so you can do something before space starts to become limited.
Remember that issues do not arise when the drive is completely full. Hard drives should not reach above 85% capacity. Once you go past this threshold, problems will surely manifest in no time.
As part of the solution to the scratch disk full Mac issue, it is time to change your scratch disk to another drive in your system. In case you do not have another available drive, you can buy one with SSD since it is the recommended choice if you have a Mac OS X.
Simply follow these steps when changing your scratch disk in Photoshop.
Tap on the Photoshop menu
Proceed to Preferences and tap on Scratch Disk
Place a check on the checkbox to choose or remove a drive that will serve as the scratch disk
Tap on OK
Restart Photoshop
Defragment the hard drive
There are instances in which the "scratch disk is full" message pops up even if the current scratch disk drive has adequate free space. The reason for this is that Photoshop requires continuous, unfragmented free space on the scratch disk drive.
Once this error message occurs despite having a scratch disk drive with enough free space, it is recommended to use a disk defragmentation tool.
Quick Tip on Using PowerMyMac Master Scan Tool
Since you need to clear up your Photoshop cache as well temp files to deal with the "scratch disk full" issue, you need to use an efficient tool. A recommended choice is no other than one of the tools by iMyMac PowerMyMac. What makes PowerMyMac stands out from the rest is that it is specially designed to solve a variety of issues on your Mac.
Get A Free Trial Now!
The software has 6 main modules that contain the tools that you need to keep your device free from unwanted files as well as function optimally. A specific tool that you need is the Master Scan tool in PowerMyMac. This tool is specifically structured to clean up your system junk such as the Application Cache, System Cache, User Logs, System Logs, and Localization. The tool aims to optimize the overall performance of your device as well as free up disk space.
Let us take a close look at the steps on using the System Junk tool:
Step 1. Open PowerMyMac.
Step 2. On the interface of the app, tap on Master Scan. Start a scan on the System Cache, Application Cache and other system junks on your device. Once the scan completes, simply check the items.
Step 4. Select the system files that you want to remove.
Step 5. Tap on the Clean button to remove the system junk files that you have selected on your device. At this point, you might be prompted to key in your password. Simply wait for the cleaning process to finish.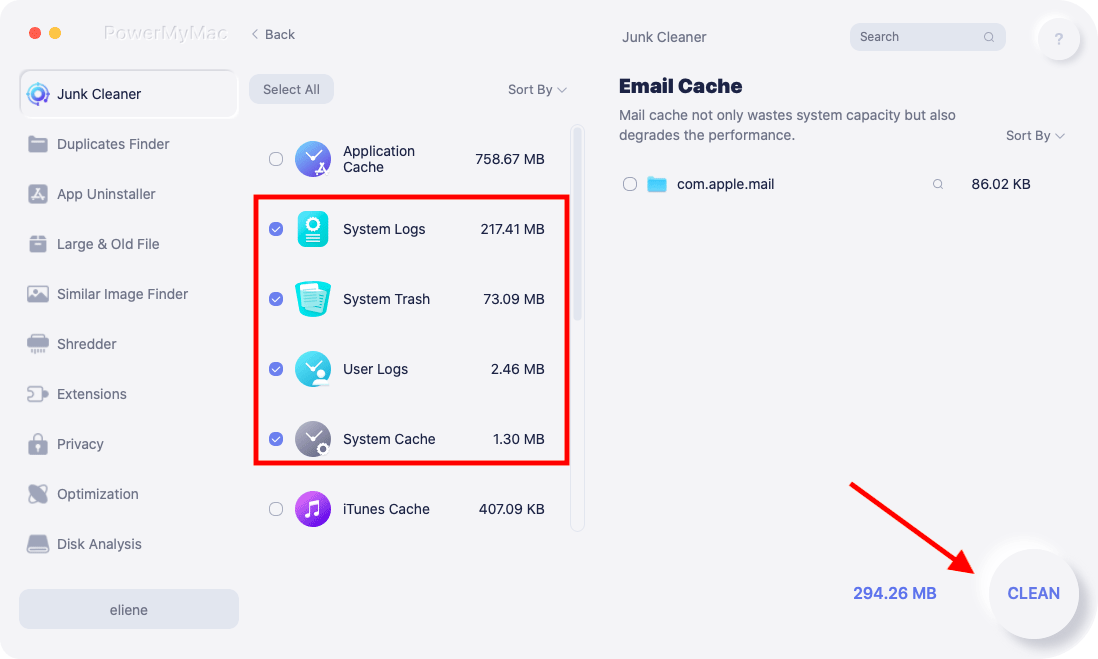 Conclusion
With the help of these measures on how to deal with the scratch disk full Mac issue, you will no longer end up with the "scratch disk full" issue again.
Once you decide to start on a new project in Photoshop, you will enjoy the smooth operation of the program.